Hand Crafted Monkton Ridge Orchard Barn Quilts
Each Monkton Ridge Orchard Barn Quilt is painted on a 1/2-inch medium density overlay panel (MDO). We use MDO, also called "signboard", because it has a smooth surface and waterproof qualities. Our barn quilts are first painted on both sides with two coats of exterior primer as a base. The design is then painted on using at least three coats of each color. The edges are sealed with 1/2-inch wood trim attached with waterproof caulking and small nails. The final step is applying two coats of spar urethane to permanently seal all the surfaces making our barn quilts durable and suitable for outside display!
All Barn Quits can be made in 4 sizes: 
1 x 1-foot $45
2 x 2-foot $120
3 x 3-foot $150
4 x 4-foot $250

Contact us for sales and current availability: 802-318-3785. Or, send a message through our Facebook page.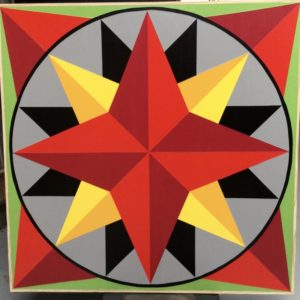 Red Mariner's Compass - 3' x 3'
Green & Blue Starburst - 3' x 3'
Red, White & Blue Mariner's Compass 3' x 3'
12-Point Star on Black 2' x 2'
Blue Mariner's Compass 2' x 2'
The Green Machine 2' x 2'
Yellow Air Star - 2' x 2'
Yuletide Wreath - 2' x 2'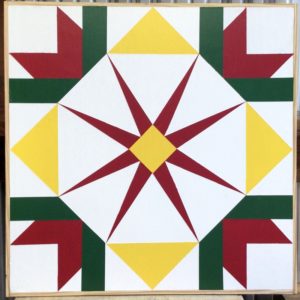 Green Mariner's Compass - 2' x 2'
Mariner's Compass - 2' x 2'
8-Point Fancy Star - 2' x 2'
Lazy Susan Barn Quilts - Crafted on 1" pine boards & sealed with urethane
Bright Colors Lazy Susan 15" - $75
Red, Green & Yellow Lazy Susan 12" - $50
Mariner's Compass Lazy Susan 17"- $75
Sunflower Lazy Susan 17" - $75